Transform your referrer's experience, improve reporting times, and enable rapid protocoling.
Progressive Radiology businesses depend on modern communication solutions to improve workplace efficiencies, patient outcomes, and referrer satisfaction.
Join a platform that connects the healthcare network. From admin, clerical, and tech, through to radiology, referrers, and specialists. Connect your business with a powerful, secure platform that's supported by a best-in-class team.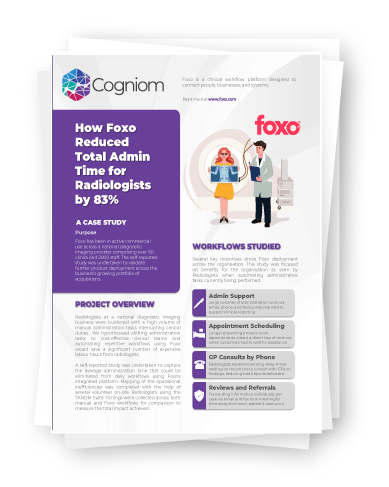 Learn how Foxo reduced Radiologist's administration time by 83%
Download Foxo's independent efficacy study here.
Improve Reporting Efficiencies
One of Foxo's most powerful features enables Radiologists to seamlessly triage administrative tasks to a cost-effective clerical team for completion.
For example -
Radiologists encounters an issue with an order (eg. patient billing information), with 1 click the doctor can send the task to an Admin team for resolution.
Radiologist needs to call a referrer, the Admin team can arrange the call and transfer once connected.
If there is a missing worksheet or additional images required, a request can be made to the relevant modality team and actioned without interrupting workflow.
Rapid Protocoling
Streamlined communications between Radiologists, Technologists, and Admin teams to determine appropriate patient study protocolling.
For Example -
For receiving requests which require Radiologist clarification, direct contextual communication is enabled for timley text response rather than reliance on interruptions (phone/email/walk-ins).
Streamlined On-Call Reporting
Connecting internal and external clinical teams across your business whilst connecting various environments (RIS, PACs) to collaborate beyond borders to enable seamless Radiology workflows.
Chat Live with Referrers
Embed a "Chat Live" link in your outgoing reports to provide referrers with improved service whilst reducing reliance on phone calls. Enable external access to information, file-sharing, and streamlined requests for call-backs or advice.
Connecting your organisation and referrers with an all-in-one communication solution
Improve staff productivity
Reduce phone interruptions and dependency on email.
Unite your organisation
Deploy independently or integrate with Microsoft Teams (optional) and bring your clinical, administrative and business teams onto one, secure healthcare communication platform.
Connect with external referrers
Direct communication with referrers to improve patient care coordination, reduce referral leakage and ensure critical results notification.
RIS Interoperable
Our seamless Radiology Information System integration presents clinical and clerical teams with various workflow enhancements designed to modernise your radiology business.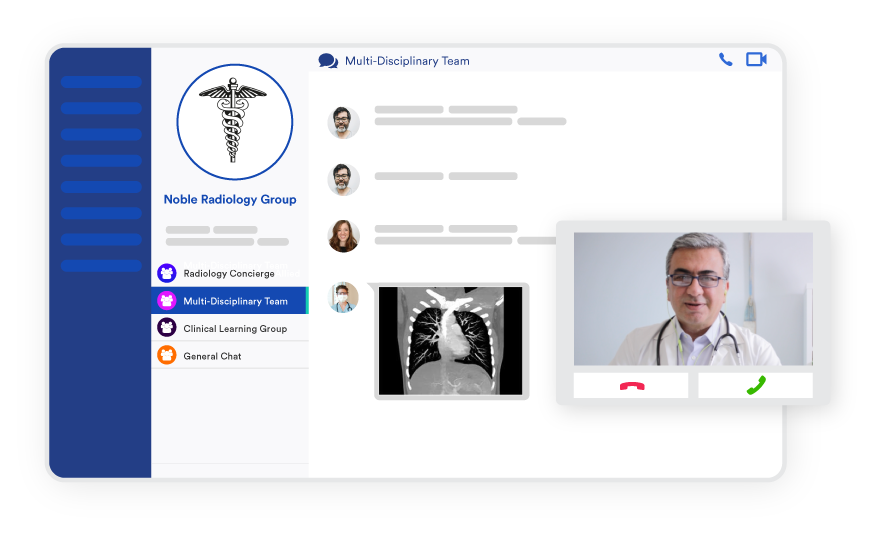 Secure communication
Ensure compliance with privacy legislation, reduce data-breach with secure single, group and teams-based collaboration with workflows built to manage inbound referrals and task management.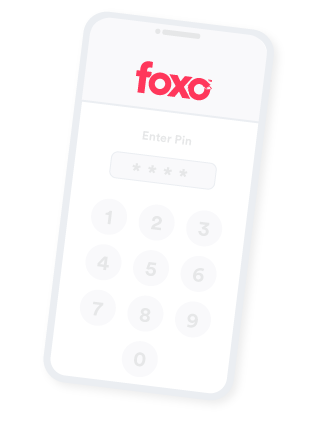 MDTs, live voice and video calls
Discuss cases with referrers, get second opinions from colleagues, and run multi-disciplinary meetings from anywhere.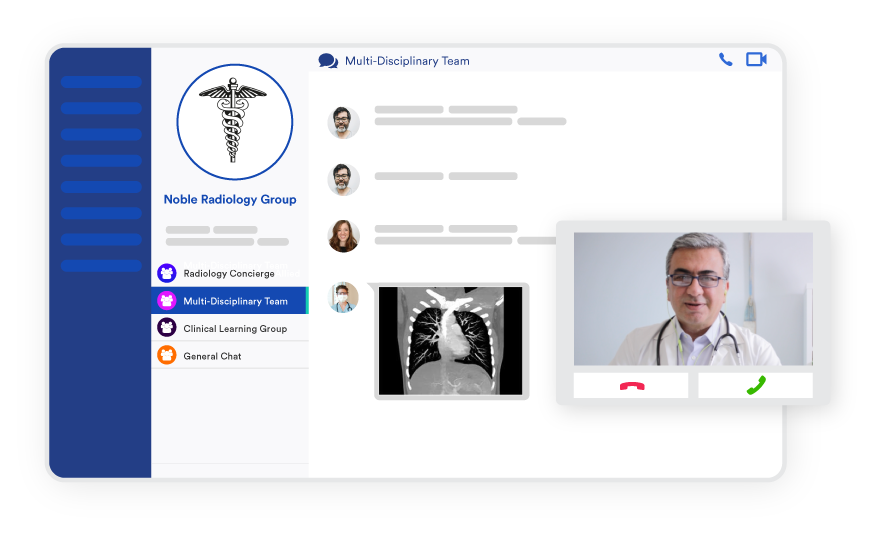 Case Management
Mange, triage and allocate tasks across internal and external organisational Teams.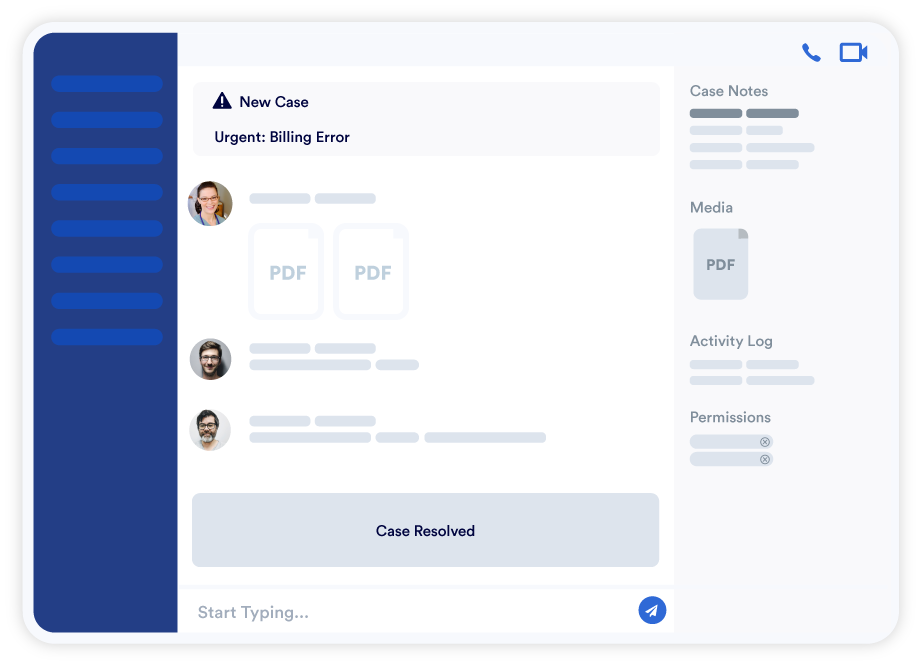 Mobile Broadcasting
Share critical updates across your organisation and extended referral network.

Searchable Network Directory
Allow your staff to connect with one another and your referral base through our secure, verified network directory. Search by name, location, or speciality.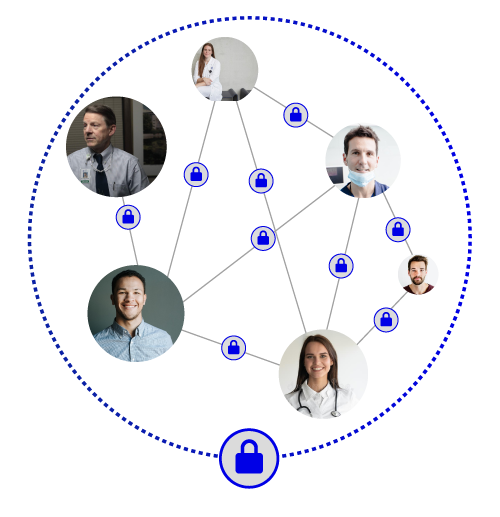 Download the Qscan case study: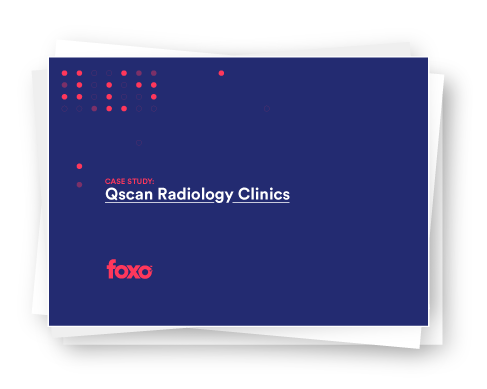 Qscan Radiology Clinics is a comprehensive Diagnostic Medical Imaging & Intervention practice with over 70 clinics, 80 hospital contracts, and thousands of General Practice referrers across the country.
Key outcomes:
Reduced radiology administration
Improved bookings processes
Connected a distributed workforce
Enabled 1-click referrals
Reduced referral leakage
Much more…
With Foxo, I'm able to provide better care for my patients due to accurate and rapid information transfer. I'm highly engaged with my referral and professional network. And, I'm now seeing critical information flow seamlessly across the healthcare stack better than before.
Foxo has effectively reduced errors by minimising interruptions driving efficiencies and accuracy across our business.
Previously we were using Skype, Teams and Slack to communicate. Foxo has reduced the noise of email, improved engagement with referrers, and gives our staff direct access to doctors.