Secure Patient Communication
Zero install, frictionless patient communication.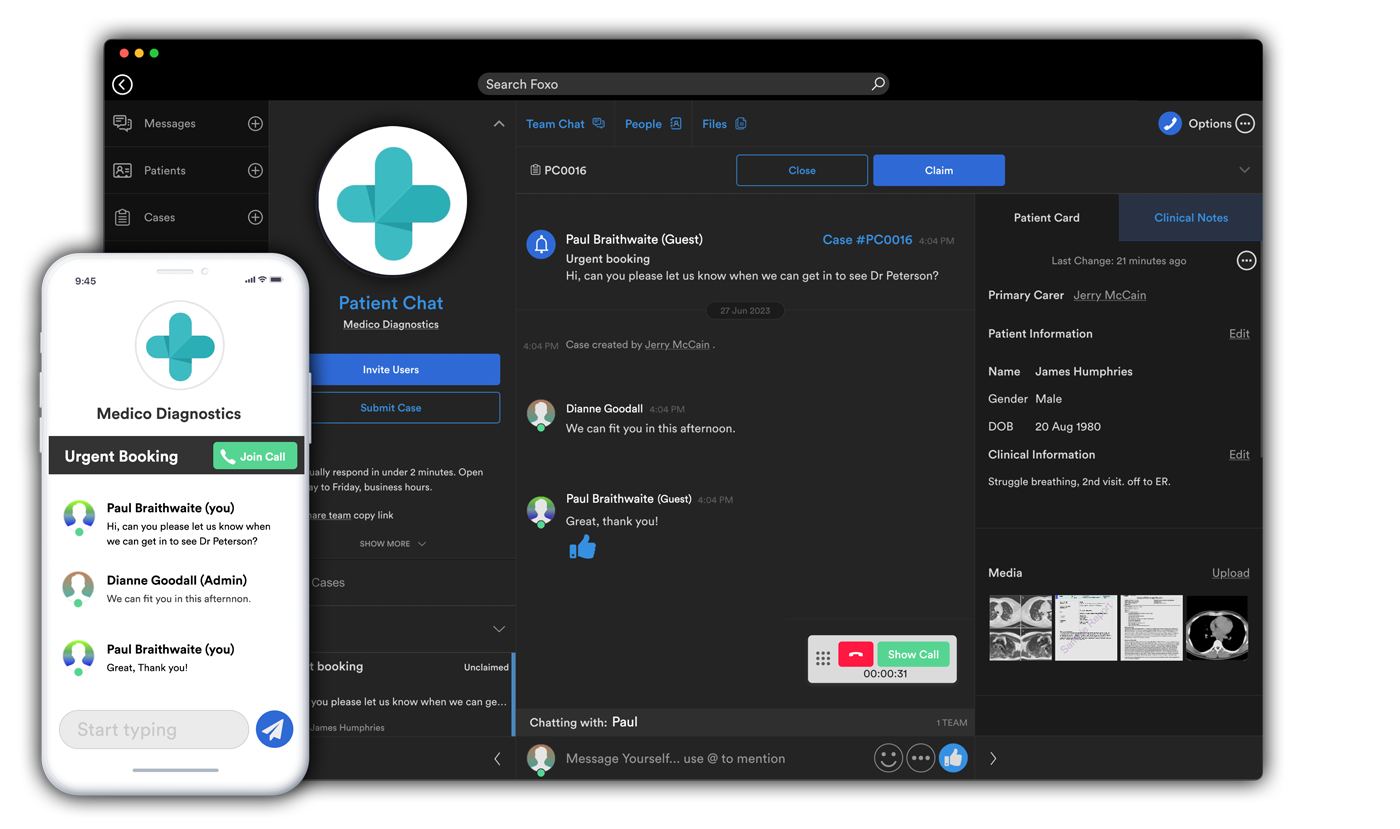 Streamline patient communications
(optional MS Teams integration).
Simply embed the live chat URL on your website or promote a QR code published across marketing assets (business cards, flyers etc) for quick access. Patients can initiate a secure chat session with your Team from their mobile device or desktop.
Engage from your MS Teams app or directly from Foxo.
Quick. Easy. Compliant.
Easy Appointment Booking
Enable patients to schedule or cancel appointments online, reducing phone queues and waiting times.
Simple launch via QR code or link embedded on your website. Available on mobile or desktop.
Simple and Secure Referral Upload
Patient Chat features secure file upload capabilities, enabling patients to quickly and safely share their referral documents by taking a photo and securely sharing it via the chat.
Quick Information Requests
Empower patients to obtain information about your services, procedures, or general inquiries. With instantaneous responses and a user-friendly interface, patients can access the information they need without the hassle of email or phone calls.
Synchronous and Asynchronous Communication
The synchronous and asynchronous communication flow allows patients to communicate in either real-time with your Team or leave messages at their convenience.
Unified Communication
Chat live with patients from your MS Teams environment. Our seamless integration with MS Teams enables you to invite patients into the MS Team environment without the need for a Foxo or MS Teams account.
Healthcare Organisation benefits:
Improved service delivery to patients
Reduce wait times and phone queues
Compliant with healthcare privacy principles
Competitive advantage by embracing a modern and user-friendly communication tool
Automated Response reducing back-and-forth communication
All communication recorded and saved for later access
For MS Teams enabled organisations: communicate with your patients from your MS Teams environment
Patient benefits:
Simple launch via QR code from mobile or via link embedded on your website
Quick and easy appointment booking & cancellation
Simple referral upload by taking a photo and sharing in the secure chat window

Skip phone queue, no more time on hold

Chat in real-time or leave message at their convenience
Fast access to information
Communication saved for later access
Simple, easy to use
Patient Chat has brought a new level of innovation to our patient communication by offering our patients an easy-to-use and secure live chat to make a booking, request information and upload their referral. By implementing Foxo we wanted to align with our patients' preference to make appointments online while ensuring security and privacy of sensitive patient data. They can now simply upload a photo of their referral and either chat with us live or leave a message at their convenience - all in a secure chat window.