Guest Chat
A new channel of inbound communication dedicated to your referrers and external network.
In just 1 click, connect your surrounding healthcare network (e.g. referrer, VMOs, primary care) can skip your call queue for decision support or request information on reports, scans, results, or other tech support. Launched from their PMS.
No integrations. No setup. Easy.
Your Referrer's Experience:
1-click communication from your referrer's PMS. No integrations or setup required.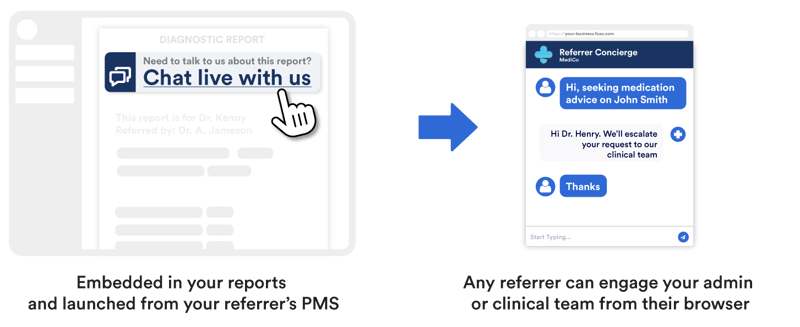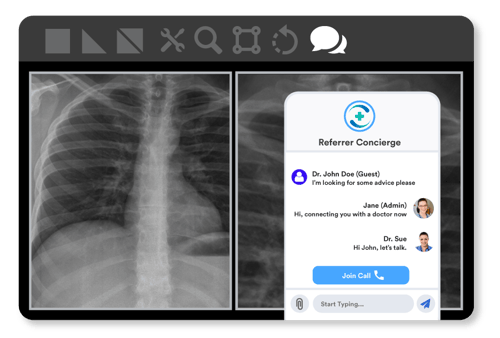 Embedded in your PACS viewer
1-click connectivity from your PACS
How it works
Guest Chat presents any Foxo-enabled organisation with an extremely powerful yet simple channel of inbound communication from their extended network (e.g. referrers). By simply sharing or embedding URL in your reports, results, referrals, SMS, or emails, a secure and live communication thread can be initiated in seconds into your business.
Healthcare Organisation benefits:
Improved service delivery to referrers
Reduce missed calls from referrers and clear up phone queue to patients
A new channel of inbound communication dedicated to your referrers and extended network
Frictionless communication across a broad external network
One-click secure communication between businesses
The "Guest" Benefits (eg. referrer):
No app install or account creation
Skip the phone queue and contact any Foxo-enabled business in seconds
No more wasted time on hold
Simple 1-click launch from a diagnostic report or referral
Fast access to information, video, and voice
Communication saved for later access