CASE STUDY
Medscan
Private Radiology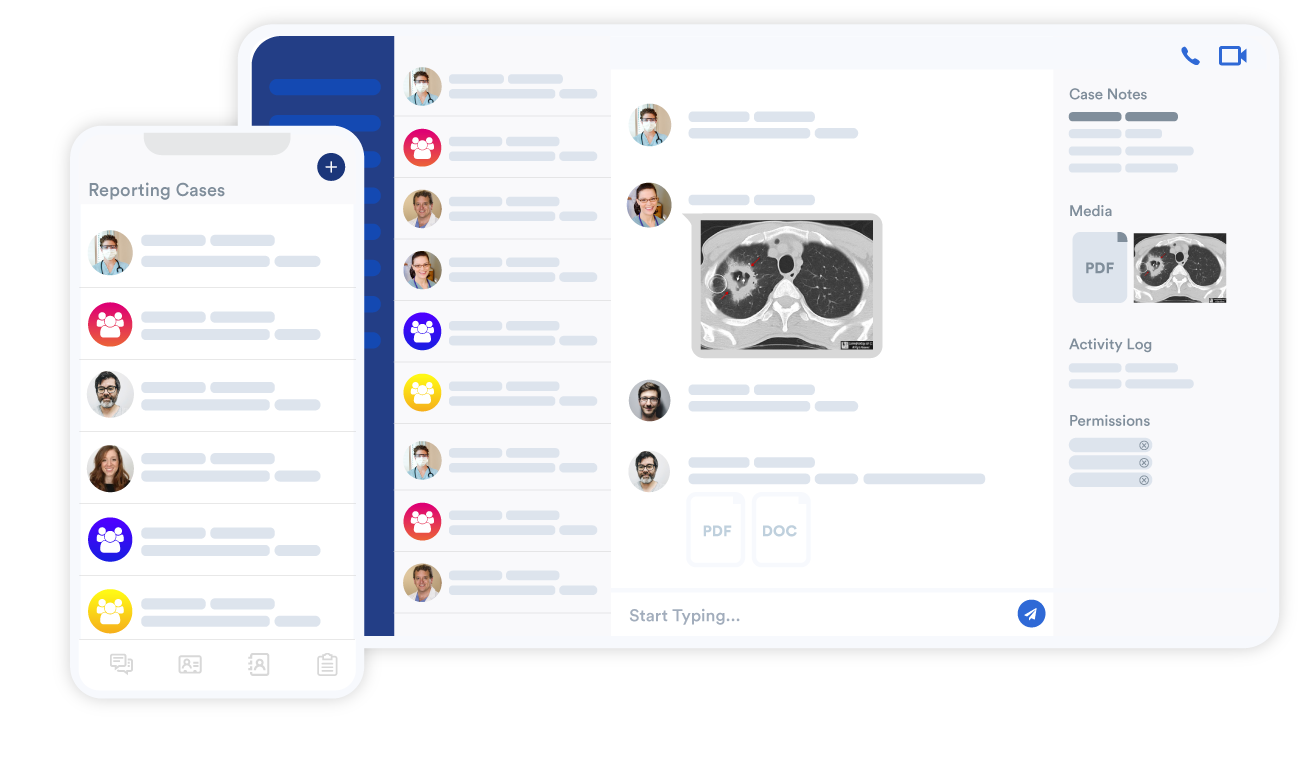 Medscan
is a leading provider of medical imaging and radiology services in Sydney NSW, offering a comprehensive range of modalities, including General x-ray, CT, MRI, Ultrasound, Mammography, Cardiac Imaging, and Interventional Procedures across their four sites.
Vertical: Private Radiology
Key Takeaways
Offer patients improved service by enabling secure live chat link
Provide a secure alternate communication channel to email & phone
Reduce waiting times and phone queues for patients
A simple 1-click launch to make bookings, request information and share photo of referral with trackable history of requests for both sides
Ability internally to on-share internally with Clinical or Admin teams securely
Secure and compliant
Customer Challenges
High volume of inbound phone calls with interruptions to clinical workflows
Lack of alternate, secure communication channel to phone and email
Need for innovative communication tool to align with patients' preference for online booking
Need for compliance with AU privacy principles


Solution
With a strong commitment to delivering exceptional patient care and improving patient experience, Medscan sought to enhance their services by utilising an innovative communication tool to meet evolving patient expectations and offering an alternate means of communication to phone and email, while also ensuring the security of sensitive patient data. To achieve these goals, Medscan decided to trial Foxo's Patient Chat, a secure, simple and user-friendly live chat tool for patients enabling them to make appointments, request information, and securely communicate with the Medscan Receptionist team in real-time.
Patient Benefits
Foxo's Patient Chat provided Medscan with a secure and easy-to-use platform to facilitate and triage patient communication. Patients could initiate a chat session with Medscan's Bookings Team through a web URL or scanning a QR code published across Medscan assets (website, business cards, and flyers). The synchronous and asynchronous communication flow allowed patients to communicate in either real-time with Medscan or leave messages at their convenience. Patient Chat also features secure file upload capabilities, enabling patients to quickly and safely share their referral documents by taking a photo and securely sharing it via the chat.
Business Benefits
Patient Chat provided Medscan with a secure live chat link, ensuring compliant and confidential communication with patients. The quick and easy referral upload feature streamlined the booking process, eliminating the need for manual document handling. Staff members appreciated the automated response functionality and the ability to access the chat history, allowing for more streamlined and efficient communication with patients. The adoption of Patient Chat resulted in a substantial improvement in patient experience. By embracing a modern and user-friendly communication tool, Medscan gained a competitive edge in the industry. Patient Chat became a necessary service rather than just a "nice to have" feature, aligning with patients' preferences for online booking.
Use Cases
Quick and secure referral upload
Streamlined appointment bookings
Synchronous and asynchronous communication
Automated response to prompt patients to provide required information and history of communication


Benefits
Secure patient communication compliant with AU's privacy principles
Improved patient experience
Competitive advantage by embracing a modern and user-friendly communication tool
Streamlined booking process


"Patient Chat has brought a new level of innovation to our patient communication by offering our patients an easy-to-use and secure live chat to make a booking, request information and upload their referral. By implementing Foxo we wanted to align with our patients' preference to make appointments online while ensuring security and privacy of sensitive patient data. They can now simply upload a photo of their referral and either chat with us live or leave a message at their convenience - all in a secure chat window."